Category Archives: Church Staff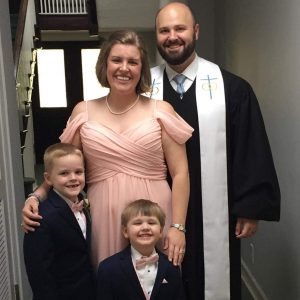 I am overjoyed to be a part of the ministry and mission of Grace on Harbison. God has called me to preach the truth of the Gospel so that others might know the love and justice of Jesus Christ and be agents of his grace in their families and communities. I was born and raised in Murrells Inlet, SC and grew up attending Socastee UMC. I earned a BA in Religious Studies with a minor in history at the University of South Carolina. I received my MDiv from Duke Divinity School in May of 2010, began my ministry on July 1, 2010, and was ordained an Elder in June of 2012 at the SC Annual Conference. Prior to serving at Grace, I served as associate pastor at St. John's UMC in Rock Hill. I enjoy spending time at the beach. The salt water always restores me. I am a gym rat, but that is mainly to support my love of good food.
I share my life and ministry with my wife, Lollie, and our sons, Wyatt and Thomas. Lollie is a South Carolina native as well, having grown up in Marion, SC. She has a deep call to lay ministry in the administration of the church at the denominational level. Wyatt and Thomas bring the most joy to our lives with their boundless energy and excitement. They love sports, superheroes, and reading. We all enjoy Gamecock football, the outdoors, grilling, going to community events, and experiencing new adventures together.
Grace's Choirs and Music are under the supervision of Dr. Merritt.
MARK DANIEL MERRITT, D.M.A., M.M., is a Choral Conductor and an ASCAP composer and arranger. The recipient of numerous commissions, Merritt received a major commission, funded by the Kentucky Arts Council and the Catlettsburg, Kentucky Leadership Club, to compose the score to the musical play River Dreams. From 2002 to 2012, Merritt was Associate Director and then Director of the regionally acclaimed, semi-professional choral ensemble, VOCE in Mount Airy, North Carolina, that he helped to found. Merritt was previously the Minister of Music at Episcopal Church of the Holy Spirit in San Antonio, Texas. Groups under Merritt's direction have performed his music at the North Carolina Music Educators Conference, the Biltmore Estate, historic Bruton Parish Church in Williamsburg, Virginia, the Texas Collegiate Women's Choir Festival, and the Mystic Area Ecumenical Choir Festival. Merritt studied composition with Henry Hallstrom, a pupil of iconic American composers, Randall Thompson and Howard Hanson, and completed his Master of Music degree in Choral Conducting under John Silantien at the University of Texas at San Antonio, and his Doctor of Musical Arts in Choral Conducting at the University of South Carolina under Larry Wyatt.